Partners' Institution
Universidad de Valencia
Author
Andres Paya and Santiago Mengual
APPS/VIDEOGAMES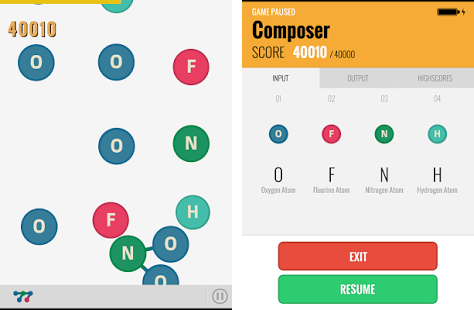 Product type
Educational App
Name of the videogame/app
ChemDrops
Name of the producer
Virtual Campus Lda
Year
2014
How to find it
For free
Main technical requirements
Ios, Android
Native Virtual Reality Support
No
Single/Multiplayer
Single
Type
Educational
Target Audience
12-17 years, 18+ years
Augmented Reality

PEGI Clasification
PEGI 3
Use in Educational contexts
Degree of required tutoring
Autonomous use by students
Subjects involved
Chemistry
Special needs
Visual impairment
Educational Potential
ChemDrops is a gamified chemistry app in the form of a puzzle game in which you must make combinations of atoms as fast as you can in each level. As you progress, you can unlock useful enhancers.
Learning Object / Suggested activities with students
This arcade game for the teaching of chemistry, allows the player to become familiar and learn the different symbols corresponding to the elements of the periodic table. In addition to being a game of competition in which to accumulate elements, they allow you to perform chemical combinations and add points and be competing.
Skills and competences
Skills and competences acquired
The application develops, in addition to competitiveness, the ability of abstract thinking and creativity to go combining elements to create chemical formulations
Soft skills
Problem solving, Creativity, Innovation
---
1 Comments