Partners' Institution
Universidad de Valencia
Author
Andres Paya and Santiago Mengual
APPS/VIDEOGAMES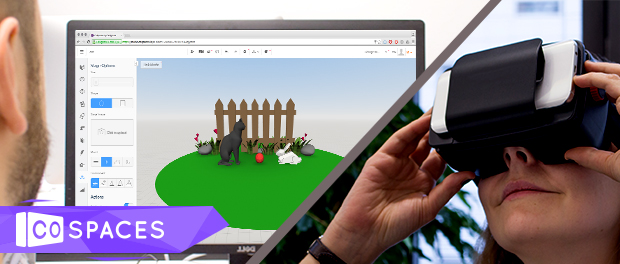 Product type
Leisure App with educational potential
Name of the videogame/app
CoSpaces
Name of the producer
Delightex GmbH
Year
2017
How to find it
For free
Main technical requirements
Ios, Android
Native Virtual Reality Support
Yes
Single/Multiplayer
Multiplayer
Type
Simulation
Target Audience
12-17 years, 18+ years
Augmented Reality

PEGI Clasification
PEGI 3
Use in Educational contexts
Degree of required tutoring
Autonomous use by students
Subjects involved
History, ICT, Geography, Technology, Literature, Arts and Music
Special needs
Visual impairment
Educational Potential
Create and explore 3D and VR worlds with your students. CoSpaces Edu offers your students a new perspective on learning matter, engages them as makers, enhances their creative and digital literacy skills and makes learning more fun and exciting. It is used for various age groups ranging from primary to high school and across numerous school subjects, covering STEAM, history, literature, computer science and more. If you're a creative teacher and want your students to excel at 21st century learning skills CoSpaces Edu offers you a creative playground for your classroom.

Learning Object / Suggested activities with students
The creation and design of virtual spaces in 3D allows the player to develop a large number of teaching-learning objectives: the calculation of structures, areas and spaces; the development of language; imagination and creativity in creating new worlds; communication by enabling the sharing of creations with other players, etc.
Skills and competences
Skills and competences acquired
The main skills that are developed are creativity, imagination and communication with other playmates / explorers.
Soft skills
Problem solving, Creativity, Self-confidence, Team working, Innovation
---
1 Comments