Partners' Institution
Xano Channel
Author
Ignacio Pachés Giner
APPS/VIDEOGAMES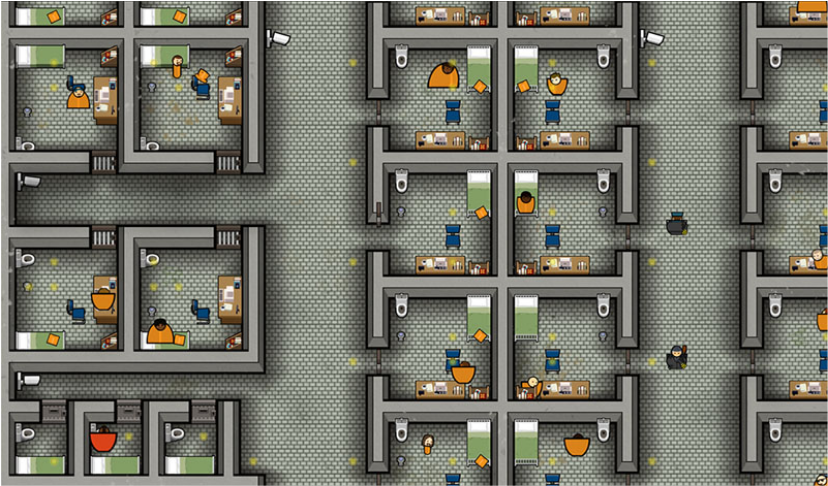 Product type
Leisure videogame with educational potential
Name of the videogame/app
Prison Architect
Name of the producer
Introversion Software / Paradox interactive (tablet version)
Year
2015
How to find it
To be Purchased
Main technical requirements
Windows, Linux, Ios, Android, Xbox
Other PlayStation
Native Virtual Reality Support
No
Single/Multiplayer
Single
Type
Simulation
Target Audience
12-17 years, 18+ years
Augmented Reality

PEGI Clasification
PEGI 16
Use in Educational contexts
Degree of required tutoring
Autonomous use after teacher introduction/explanation
Subjects involved
Physics, Technology, Philosophy
Other
Architecture, Management
Special needs
Visual impairment, Hearing impairment, Learning difficulties
Educational Potential

The game simulates a prison and the player has to decide every detail of it, from architectural design, layout of buildings and areas and hiring personnel. The simulation is very detailed and the game has multiple elements to control, albeit at a very basic and easy level each one. The main goal is to provide a sufficient quality of life to inmates and keep the prison safe to prevent break outs. In addition, the prison must not lose money.
This yields a great educational potential specially with soft skills, the player has to analyze every decision in advance, from architectural and build decisions, to the time schedule of several types of inmates, to control brawls, and so on.
The game is so complex and diverse that there are many aspects to learn from: financial managment, profitability, social abilities, building managment, planning (of inmates activities but also of prison expandings)
The risk taken are not specially important, given the game object. The game does not magnify or portrait the behaviour or moral of criminals, on the contrary, the violence is seen as a simulated and something to prevent.
There is few or none linguistic learning from this game but it has a uncommon set of graphical symbols that prompt the learning of those by the player.

Learning Object / Suggested activities with students

The game is best used in VET Training in construction studies (public works). But the game can also be used by students from about 12 years with good expectations. The best part of it is that it is fun and diverse and has a bit of several school subjects



Skills and competences
Skills and competences acquired
- Planning and design of buildings
- Maths
- Resource managment
- Accounting
- Logical thinking
- People special needs
It is feasible to make an exam (like the ones happening in schools clases), about the game, with questions that are relevant for the education of the studen. for example:
"What is the effect of depriving a person from getting in touch with his family for long?" (which is a possible situation to avoid in the game). This question, amongs others is dealt in the game
Soft skills
Critical thinking, Problem solving, Creativity, Self-confidence, Resilience, Time management, Entrepreneurship, Leadership, Innovation
---
2 Comments