Partners' Institution
Xano Channel
Author
Sonsoles Jimenez Gonzalez
APPS/VIDEOGAMES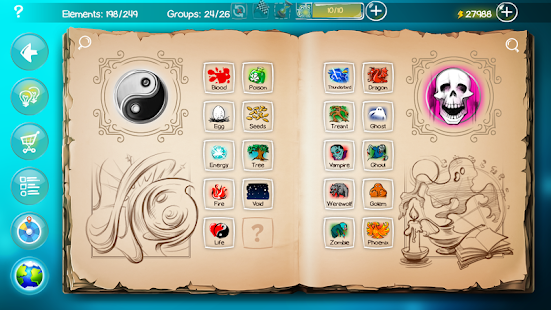 Product type
Educational videogame
Name of the videogame/app
Doodle God
Name of the producer
JoyBits Ltd.
Year
2010
How to find it
Freemium
Main technical requirements
Windows, Linux
Native Virtual Reality Support
No
Single/Multiplayer
Single
Type
Strategy
Target Audience
6-11 years, 12-17 years, 18+ years
Augmented Reality

PEGI Clasification
3 Years
Use in Educational contexts
Degree of required tutoring
Autonomous use by students
Subjects involved
Natural Sciences, Chemistry, Physics
Special needs
Learning difficulties
Educational Potential
Acting as the Doodle God, the player must combine available elements together to gain access to new elements.
Combinations can be both physical (such as combining Water and Lava to obtain Steam and Stone) and metaphorical (such as combining Water and Fire to obtain Alcohol).

The complexity of the combinations could be fun for everyone, but has educational potential only for some courses of primary school. There are some combinations interesting for physics or chemics explanations and some combinations are interesting to talk about the meaning of some words.

It's a over-simplified creation simulator and the player is like a god. It don't have to be taken seriously by the students.

Learning Object / Suggested activities with students
At natural science class in primary school, the teacher can purpose some puzzles to the students and, then, talk about the combinations between natural resources.
Skills and competences
Skills and competences acquired
The competences are about chemical or physical reactions. There are some skills about the meaning of the words or understanding metaphors that could be interesting. Other important skills are about solving problems dividing them into steps.

Evaluate this competences is as easy as watch the student playing. But maybe is not a game to evaluate concrete competences, because the game itself is not really rigourous.

Soft skills
Problem solving, Creativity, Self-confidence, Resilience
---
2 Comments