Partners' Institution
Xano Channel
Author
Ignacio Pachés Giner
APPS/VIDEOGAMES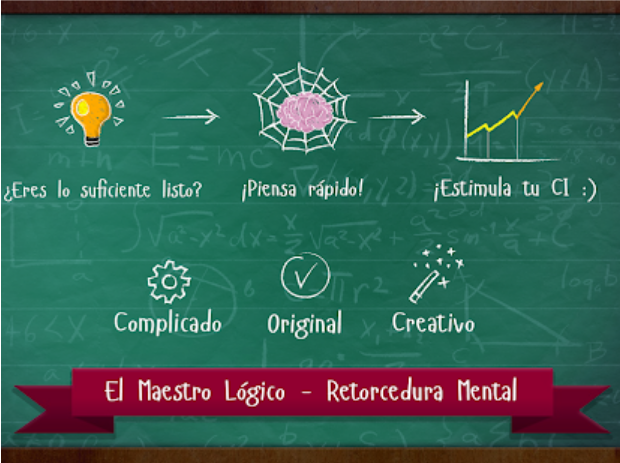 Product type
Educational App
Name of the videogame/app
El maestro lógico (the logic master)
Name of the producer
Weez Beez
Year
2018
How to find it
To be Purchased
Main technical requirements
Android
Native Virtual Reality Support
No
Single/Multiplayer
Single
Type
Educational
Target Audience
6-11 years, 12-17 years, 18+ years
Augmented Reality

PEGI Clasification
PEGI 3
Use in Educational contexts
Degree of required tutoring
Autonomous use by students
Subjects involved
Math
Other
Logic
Special needs
Visual impairment, Hearing impairment, Learning difficulties, Physical disability
Educational Potential

This app falls into the category of "Puzles". However it is special in that every puzzle tries to puzzle, mislead or fool the player and make him go for the naive wrong answer whereas the correct one is simply less visible than the wrong one.
The educational potential comes from the fact that you are continuously prompted to select the wrong answer by several facts but there is always a correct answer which requires the player to think twice and have critical thinking . Moreover, the problems and their descriptions are very different, so it gets difficult to quickly learn from your mistakes, as every next puzzle has nothing to do with previous if played in random mode.
The player learns to consider many non obvious circumstances in every description of the problem. And that's the educational benefit.
Though there are no risks, again one must consider that this app doesn't pretend to make the player learn any subject or matter specifically.
The language in the game can get very tricky as some problems or requirements are described by a complex sentence that must be completely grasped

Learning Object / Suggested activities with students

The natural scenario on how this app could be used would be by playing it at class in a contest or group. The game doesn't have a multiplayer option, but playing it against mates at class can get the player focus and try to do its best to get a nice score.
The game should be played little time as the intention is only train the player to focus and understand the questions and text shown. This would be an introductory activity for classes.

Skills and competences
Skills and competences acquired

• Logical thinking
• paralell thinking
• carefull evaluation of problems and situations.
• Math skills (though basic)

Soft skills
Critical thinking, Problem solving, Creativity, Resilience, Time management
---
2 Comments