Partners' Institution
Hellenic Open University
Author
Vicky Maratou
APPS/VIDEOGAMES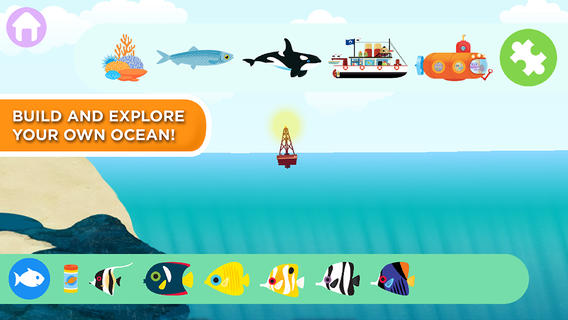 Image source: http://www.idownloadblog.com/2016/01/21/marcopolo-ocean-for-free/
Product type
Leisure App with educational potential
Name of the videogame/app
MarcoPolo Ocean
Name of the producer
MarcoPolo Learning, Inc.
Year
2014
How to find it
Freemium
Main technical requirements
Ios, Android
Native Virtual Reality Support
No
Single/Multiplayer
Single
Type
Puzzle
Target Audience
1-5 years
Augmented Reality
No
PEGI Clasification
3
Use in Educational contexts
Degree of required tutoring
Autonomous use by students
Subjects involved
Natural Sciences, Languages
Other
Marine biology
Special needs
Learning difficulties
Educational Potential
MarcoPolo Ocean is an educational interactive app for preschoolers. Children can learn about Earth's oceans in two ways: through build & explore puzzles or free play.
There are five build & explore puzzles: 1. build a coral reef, 2. build marine animals, 3. build fish, 4. build a boat, and 5. build a submersible. Children add parts to each puzzle and learn the appropriate vocabulary, such as fish body parts, aquatic animal behavior and parts of a ship. The app offers voice explanations so no reading is required.
The option of free play allows children to do several things: explore the ocean from the shore to the sea bottom, see how different sea creatures live at different depths, steer their marine vehicles through ocean waters and coral reef, add fish and other sea creatures to the water to see how they interact with each other, etc.
MarcoPolo Ocean creates a fun environment for children to explore and learn about the sea that covers so much of the Earth's surface, the animals that live there and the vessels humans use to explore it.
Learning Object / Suggested activities with students
This app can be a fun, interactive supplement to any classroom studying the oceans and ocean life. It could be used with students individually or in pairs, but groups larger than that are too large. Also it works well with teacher using it with whole class. Teachers can add actual small vocabulary words that can show up on the screen to help students make connections between the submarine, boat, coral reef, whale, octopus, etc.
MarcoPolo Ocean includes the "More" section under the Parent icon on the main page which offers ideas for extra activities related to the app. In this section teachers can find ocean book suggestions that could be used in class, three hands-on activities, field trip ideas and questions to start discussion, all suitable for children in preschool and up.
Skills and competences
Skills and competences acquired
This app is good for exploration and theme-based learning. Travelling through the oceans, children view different ecosystems, learn science and engineering vocabulary.
To assess students' knowledge after plying the app, a discussion could start about why a boat stays on the surface of the water, but a submersible can travel deep below the surface.
Additionally, teachers could create numerous matching tests with pictures or screen captures of the fish, corals, marine vessels and sea creatures included in the app and ask students to solve them.
Soft skills
Critical thinking, Creativity
---
5 Comments