Partners' Institution
Universidad de Valencia
Author
Andres Paya and Santiago Mengual
APPS/VIDEOGAMES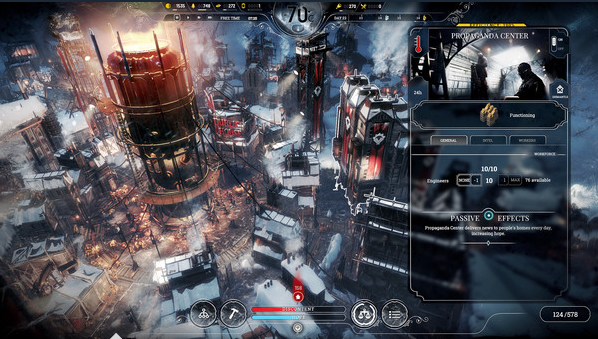 Image source: Steam
Product type
Educational videogame
Name of the videogame/app
Frostpunk
Name of the producer
11 bit studios
Year
2018
How to find it
To be Purchased
Main technical requirements
Windows, Xbox
Other PS4
Native Virtual Reality Support
No
Single/Multiplayer
Single
Type
Simulation, Strategy
Target Audience
12-17 years, 18+ years
Augmented Reality
No
PEGI Clasification
16
Use in Educational contexts
Degree of required tutoring
Autonomous use after teacher introduction/explanation
Subjects involved
Philosophy
Educational Potential
What are people capable of when they're pushed to the limit? This game is based on the premise of a world destroyed by climate change, where the last inhabited city will have to survive and make decisions that will have consequences for community life.

As a simulator, this magnificent survival video game will allow the student to face cognitive, organizational and moral and ethical challenges.

Students will be able to organize the functioning of the last surviving human community and make decisions that will allow them to survive. Within the category of civilian strategy we will have to take care of our population and our resources. The student will be faced with decisions about shift work, child labor, and resource exploitation. Every decision has consequences for the community and the establishment of laws on people's living conditions will be decisive.
Will we establish 24-hour work shifts or will we let people go cold, make decisions about sustained living? Will you give food to those who wish to leave or will you abandon them to their fate?

A game in which to explore decisions from a philosophical perspective.

Learning Object / Suggested activities with students
Explore and discuss shift decisions and their consequences.
Explore and analyse the consequences of child exploitation
Analyzing the moral dilemmas about tyrannical regimes
Explore and discuss civil liberties
Skills and competences
Skills and competences acquired
Awareness of decision making in adverse contexts
Critical analysis of forms of governance
Soft skills
Critical thinking, Problem solving, Creativity, Self-confidence, Resilience, Time management, Leadership, Coaching
---
1 Comments