Partners' Institution
FH JOANNEUM
Author
Erika Pernold
APPS/VIDEOGAMES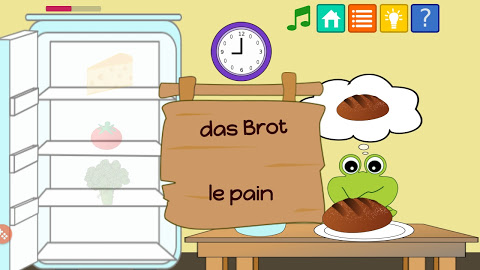 Product type
Educational App
Name of the videogame/app
BilingoFun
Name of the producer
Froshii Frog
Year
2017
How to find it
For free
Main technical requirements
Android
Native Virtual Reality Support
No
Single/Multiplayer
Single
Type
Educational
Target Audience
6-11 years, 12-17 years
Augmented Reality
No
PEGI Clasification
PEGI 3
Use in Educational contexts
Degree of required tutoring
Autonomous use after teacher introduction/explanation
Subjects involved
Languages
Educational Potential
The game is providing a way to learn a new language by using a language learners are already good at or is their mother tongue.

The app is providing different mini games learners can choose for. Most of them are based on memorizing vocabulary or easy sentences in a certain language. Learnes are having fun while practicing so memorizing vocabulary won't feel like studying.
Learning Object / Suggested activities with students
In language classes the app can be used for example when talking about food. There is a minigame which focusses on food and the used vocabulary and phrases. The students are divided in groups of three to four people. They should take roles while playing - one is playing, one is writing down what he or she is capturing, after 20 minutes the groups should present their findings and the lists should be completed.
Skills and competences
Skills and competences acquired
Learners train the pronunciation of vocabulary and phrases during playing, furthermore they got a feeling for the intonation of a language.
Soft skills
Problem solving, Time management, Team working
Translation
---
3 Comments