Partners' Institution
Hellenic Open University
Author
Mara Aspioti
APPS/VIDEOGAMES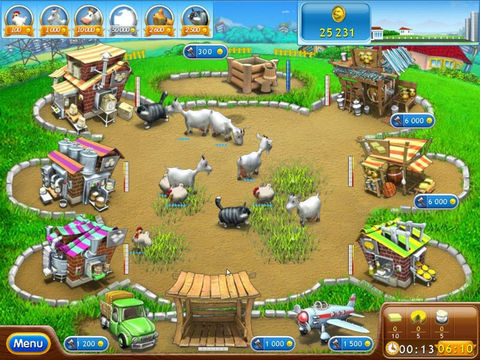 Image source: https://appsliced.co/app?n=farm-frenzy-2-pizza-party-hd
Product type
Leisure videogame with educational potential
Name of the videogame/app
Farm Frenzy
Name of the producer
Alawar Entertainment
Year
2007
How to find it
Freemium
Main technical requirements
Windows, Ios, Android, Nintendo
Other Web browser, MacOSX
Native Virtual Reality Support
No
Single/Multiplayer
Single
Type
Simulation, Strategy
Target Audience
6-11 years, 12-17 years, 18+ years
Augmented Reality
No
PEGI Clasification
3
Use in Educational contexts
Degree of required tutoring
Autonomous use by students
Subjects involved
Math, Natural Sciences, Literature
Other
Biology, Business Administration
Special needs
Learning difficulties
Educational Potential
Farm Frenzy is a series of time management/farm building videogames with multilevel educational potentials. It can help the user find out about the life in the animal farm and about the stages of a farming business management from the natural resources and livestock management to the farm products and their delivery to the market. It also introduces to the principles of strategic planning, problem solving, financial resources management, critical thinking, proactive behaviours on view of potential hazards. It also teaches that running a farming business demands dedication, responsible decisions, readiness, flexibility and adaptability to changing factors and to facing hazards.
Farm Frenzy supports the following languages: English, Dutch, French, German, Italian, Northern Sami, Portuguese, Russian, Spanish.
Learning Object / Suggested activities with students
For younger students the videogame could be used as a simulator to the scenery of an animal farm, the picture of the farm animals and their products, the working day of a farmer.
For older students it could be used for better understanding business management concepts, responsible behaviours, products management and life in the country.
Given it is a series videogame its various versions could also be used to introduce the user in the animal farm life at different historic moments and at different settings.
Skills and competences
Skills and competences acquired
Management of resources, livestock management, organisational management, time management, economy of natural resources and smart use of animal products.
Soft skills
Critical thinking, Problem solving, Creativity, Time management
Other
Strategic thinking
---
4 Comments