Partners' Institution
Xano Channel
Author
Ignacio Pachés Giner
APPS/VIDEOGAMES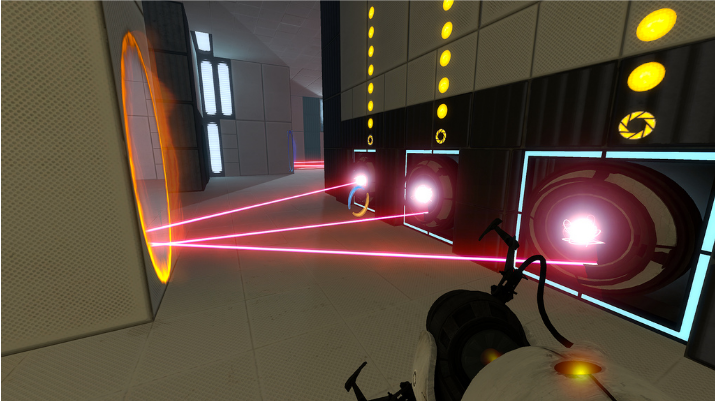 Product type
Educational videogame
Name of the videogame/app
Portal 2
Name of the producer
Valve
Year
2011
How to find it
To be Purchased
Main technical requirements
Windows, Linux, Xbox
Other PlayStation
Native Virtual Reality Support
Yes
Single/Multiplayer
Multiplayer
Type
Action
Target Audience
12-17 years, 18+ years
Augmented Reality

PEGI Clasification
PEGI 12
Use in Educational contexts
Degree of required tutoring
Autonomous use by students
Subjects involved
ICT, Languages, Physics, Technology, Philosophy, Arts and Music
Special needs
Visual impairment, Hearing impairment, Learning difficulties, Physical disability
Educational Potential
The game looks like another first person action shooter, but the mechanics of the game are actually different and make this game unique. The goal of the game is to solve physics based puzzles that build up a set of skills needed to progres further in the game.

The educational potential comes from the logical and parallel thinking that the player requires to complete the puzzles. The subject of the game itself is nowhere related to school matters, except from some physics. However the game has challenges or puzzles that the player has to solve to succeed. To solve a puzzle, most of the times, the player has to reproduce previous learnings acquired in previous puzzles, and do so in a proper manner according to the actual puzzle. This is basic for many subjects at school.

The only learning potential specifically for school matters is spatial and 3d awareness, and some physics.
The game has some levels which needs to be completed through cooperation, either with another player or with a in-game robot. The player, in this game has to coordinate the strategy, timing and actions with other player or the robot.

The risk in this game is that it is not focused on any school subject.

Learning Object / Suggested activities with students
There is no a special scenario at school for this game. It is just recommendable in general.
Some levels of this game could be used to show how to cooperate with other players, Also there are some interesting puzzles that show how different materials and substances have strange and interesting properties.
The game has quite a lot of soft skills.

Skills and competences
Skills and competences acquired
Critical thinking
Cooperation
Spatial orientation
The game is quite open and offers several ways of solving some challenges. It allows players to get past levels without getting stuck at them. The way that the player solves the game is a practical assesment of the skills learned. The harder the strategy is, the more the lplayer can work out a plan to achieve it and the better.

Soft skills
Critical thinking, Problem solving, Creativity, Self-confidence, Resilience, Time management, Team working, Leadership
---
1 Comments