Partners' Institution
Universidad de Valencia
Author
Andres Paya and Santiago Mengual
APPS/VIDEOGAMES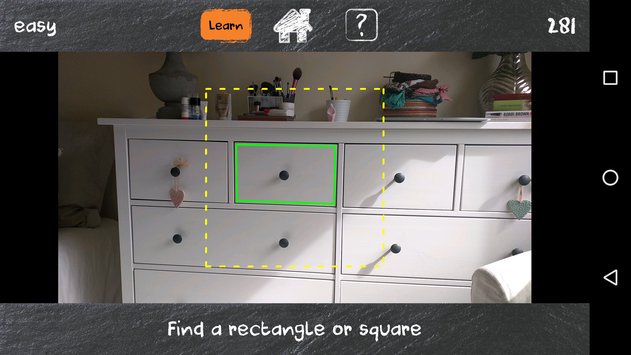 Product type
Educational App
Name of the videogame/app
What Is Geometry
Name of the producer
Watizeet
Year
2017
How to find it
For free
Main technical requirements
Android
Native Virtual Reality Support
Yes
Single/Multiplayer
Single
Type
Educational
Target Audience
12-17 years, 18+ years
Augmented Reality

PEGI Clasification
PEGI 3
Use in Educational contexts
Degree of required tutoring
Autonomous use by students
Subjects involved
Math, ICT, Technology
Special needs
Visual impairment
Educational Potential
An awesome learning game where you will find the geometric shapes around you using your phone's camera. Thanks to augmented reality provides immersive interactive action, showing you the connection between real world and theory. Combines education and fun using gamification to teach geometry. The more than 100 challenges to play allow for a split into difficulties based on the curriculum of the first school years.
Learning Object / Suggested activities with students
The application allows you to play with seven different geometry topics to play and learn: polygons, 3D shapes, circles, symmetry, vertices, lines and angles. In addition to being able to play and observe reality, the game also includes eighteen unique learning chapters prepared with the American National Council of Teachers of Mathematics
Skills and competences
Skills and competences acquired
The game develops, through the application of geometry to real life, creativity, spatial thinking and design in different ways. The ability of autonomous learning through questions and answers about geometry, is also another competence that develops this application.
Soft skills
Problem solving, Creativity, Innovation
---
1 Comments