Partners' Institution
Universidad de Valencia
Author
Andres Paya and Santiago Mengual
APPS/VIDEOGAMES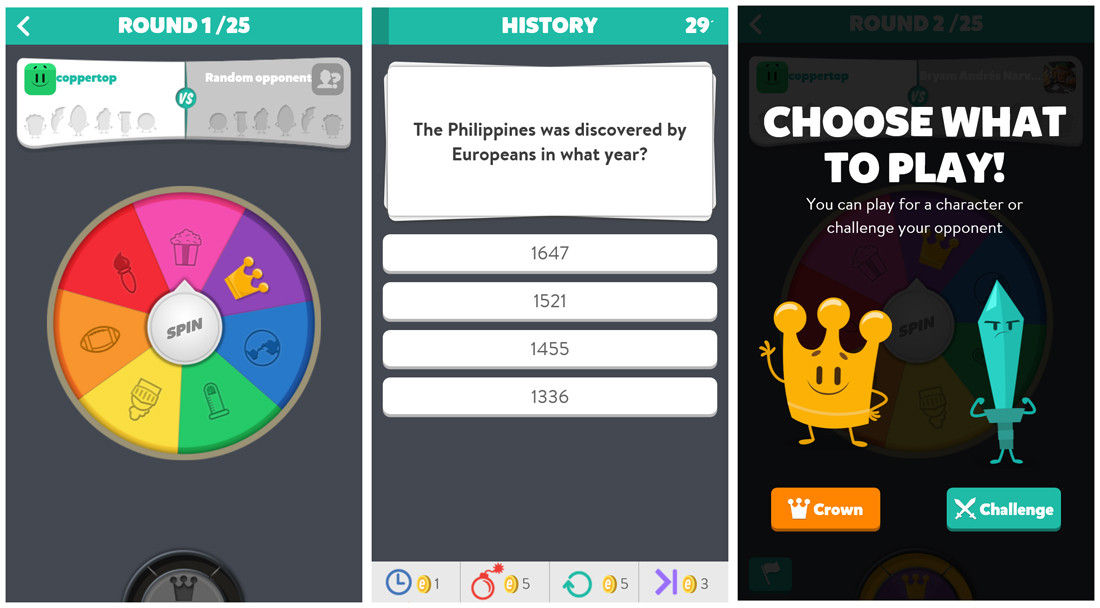 Product type
Leisure App with educational potential
Name of the videogame/app
Trivia Crack
Name of the producer
Etermax
Year
2017
How to find it
For free
Main technical requirements
Ios, Android
Native Virtual Reality Support
No
Single/Multiplayer
Multiplayer
Type
Educational
Target Audience
6-11 years, 12-17 years, 18+ years
Augmented Reality

PEGI Clasification
PEGI 3
Use in Educational contexts
Degree of required tutoring
Autonomous use by students
Subjects involved
History, Math, Natural Sciences, ICT, Chemistry, Geography, Languages, Physics, Technology, Philosophy, Literature, Arts and Music
Special needs
Visual impairment, Learning difficulties
Educational Potential
Fun quiz game that covers all areas of knowledge. Individually, by teams or in competition, the right answers to these trivial questions make learning fun. Learn playing. In the game several characters intervene depending on the types of questions: Tito will share his world-class Geography knowledge for all your road trip trivia needs; Albert is the go to guy when it comes to Science. If you love good trivia questions, I can quiz you on math, chemistry, physics and even technology !; Hector will defend your honor through the ages. Make your mark in History by overthrowing your opponents in a duel; Bonzo can keep you in shape for the upcoming seasons with Sports trivia; Let Tina test your knowledge of Art; and Pop will keep you up to date with fun trivia questions on anything Entertainment related. Prove your knowledge of the latest pop trivia across TV shows, videogames, movies and music.
Learning Object / Suggested activities with students
The different questions and answers cover practically all areas of knowledge: geography, science, chemistry, physics, technology history, sports trivia; art and music.
Skills and competences
Skills and competences acquired
The game with this application develops the skills of communication, thinking, empathy, competition and teamwork
Soft skills
Critical thinking, Problem solving, Self-confidence, Team working, Leadership, Coaching
---
1 Comments