Partners' Institution
Xano Channel
Author
Ignacio Pachés Giner
APPS/VIDEOGAMES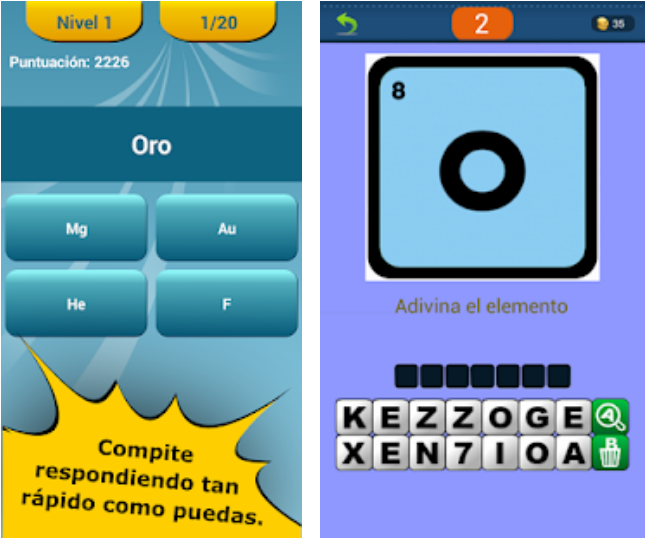 Product type
Educational App
Name of the videogame/app
Periodic Table Quiz
Name of the producer
Quizzgames and Paridae
Year
2017
How to find it
Freemium
Main technical requirements
Android
Native Virtual Reality Support
No
Single/Multiplayer
Single
Type
Educational
Target Audience
6-11 years, 12-17 years
Augmented Reality

PEGI Clasification
PEGI 3
Use in Educational contexts
Degree of required tutoring
Autonomous use after teacher introduction/explanation
Subjects involved
Chemistry
Special needs
Visual impairment
Educational Potential
There are several different apps with the same or similar name and function.
This apps are focused on the periodic table, all the activities and tests try to get the user to know about the periodic table, the elements, their properties and symbol meanings. The strength of this app is , precisely that it is only focused on that very subject. Therefore it is the appropiate tool for teachers trying to get some help to get students know about the elements.
The drawback is maybe that some teachers prefer to start explaining the periodic table through some very common elements, but the app may try to play with any rare element.

Learning Object / Suggested activities with students
The scenario fits in secondary levels, in chemistry subjects , at the time the periodic table is introduced in class.

Skills and competences
Skills and competences acquired
Knowledge of elements and the periodic table.

Soft skills
Self-confidence
---
1 Comments