Partners' Institution
Xano Channel
Author
Sonsoles Jimenez Gonzalez
APPS/VIDEOGAMES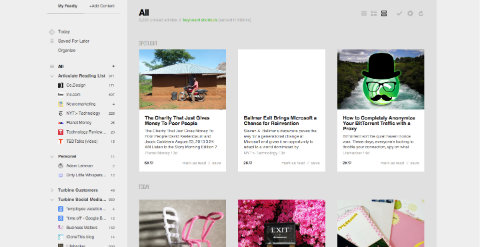 Product type
Leisure App with educational potential
Name of the videogame/app
Feedly
Name of the producer
DevHD
Year
2008
How to find it
Freemium
Main technical requirements
Windows, Linux, Ios, Android
Native Virtual Reality Support
No
Single/Multiplayer
Single
Type
Educational
Target Audience
6-11 years, 12-17 years, 18+ years
Augmented Reality

PEGI Clasification
N/A
Use in Educational contexts
Degree of required tutoring
Autonomous use after teacher introduction/explanation
Subjects involved
History, Math, Natural Sciences, ICT, Chemistry, Geography, Languages, Physics, Technology, Philosophy, Literature, Arts and Music
Special needs
Learning difficulties, Physical disability
Educational Potential
A RSS reader allows the students to read news from a great variety of sources using only one app and without entering in each web page each day. It's very usefull for a professional for be updated with news of their specialty.

We can suggest to the students sources of quality information. Ways to avoid the mediatic intoxication of false news in social networks and different points of view of the same event. It can improve their critical thinking.

Almost every blog or newspaper in Internet can be followed with this app. They have to choose carefully to avoid some risks.

It's very usefull for language classes because students can read news in the original language and if they are used to using this app, they could read a lot in other languages about interesting topics for them.

Learning Object / Suggested activities with students
The students install this app in the mobile phone or access via web. The teacher suggest some different news sources and blogs to add.

Students use this app during some days and they have to detect the same news by different sources and write about the different point of view of each one. Later, they have to suggest some blogs about a topic that they like, and the other students can add this blogs to their app.
Skills and competences
Skills and competences acquired
Of course, by reading, they can learn thinks about the topic of the lecture. But in general, the interesting thing is the critical thinking, the ability to read and understand in other languages and more accurate and trusted ways to find information in Internet.
Soft skills
Critical thinking, Creativity, Self-confidence, Resilience, Time management, Team working, Innovation
---
1 Comments