Partners' Institution
Xano Channel
Author
Sonsoles Jimenez Gonzalez
APPS/VIDEOGAMES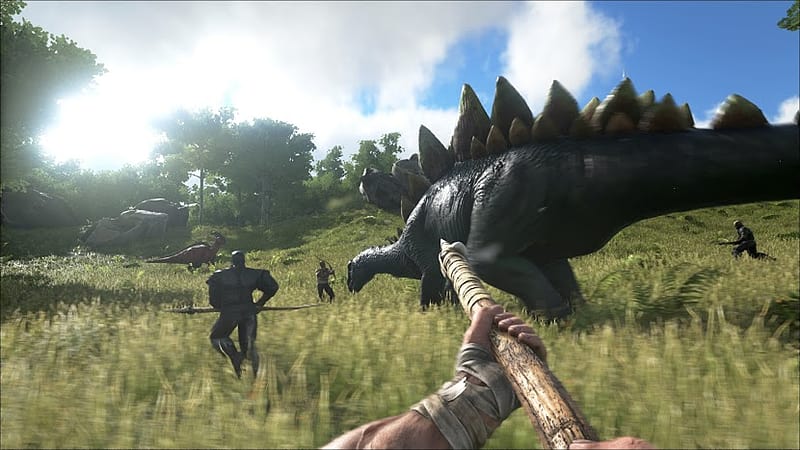 Product type
Educational videogame
Name of the videogame/app
Ark: Survival Evolved
Name of the producer
Studio Wildcard Instinct Games
Year
2015
How to find it
To be Purchased
Main technical requirements
Windows, Linux
Other Play Station
Native Virtual Reality Support
Yes
Single/Multiplayer
Multiplayer
Type
Action
Target Audience
12-17 years, 18+ years
Augmented Reality

PEGI Clasification
ESBR Teen
Use in Educational contexts
Degree of required tutoring
Autonomous use by students
Subjects involved
History, Natural Sciences, Philosophy, Literature
Special needs
Learning difficulties
Educational Potential
This game is an open world where the player have to survive with prehistoric animals and other players. The animals and other players can be hostile or friendly and domesticated.
The players can construct a base with the resources that they find.

Kids can learn about a variety of dinosaurs in a fantasy setting, as well as the basics of survival in a dangerous environment. Decision making, planning, and organization all are needed to determine which structures to build and where to build them to support survival.
Communication, negotiation, and cooperation skills come into play on multiplayer servers. Whether you face dinos alone or with others, Ark: Survival Evolved reinforces how important planning, spatial awareness, and teamwork are in enduring dangerous situations.

Teachers should be aware that multiplayer is unmoderated, exposing players to potential inappropriate language.

The world is dangerous and violence is necessary to survive, so players will need to kill animals before they kill you with fists, stone weapons, or firearms. There's minor blood splatter when fighting, and bodies that are slain remain until they're harvested.

Learning Object / Suggested activities with students
The teacher can sugest to play a multiplayer game and the students have to cooperate to survive.
They have to organize themselves to take decisions and they have to evaluate their collaboration for the progress in the game.

Skills and competences
Skills and competences acquired
There are some concepts about prehistoric fauna, survival techniques and prehistoric tools. The students can also learn about communication, negotiation or management of resources.

It's complicated to evaluate with this game. Later, students can write and expose about the gameplay and their role in it.

Soft skills
Problem solving, Self-confidence, Resilience, Time management, Team working, Leadership, Coaching
---
2 Comments