Partners' Institution
Hellenic Open University
Author
Vicky Maratou
APPS/VIDEOGAMES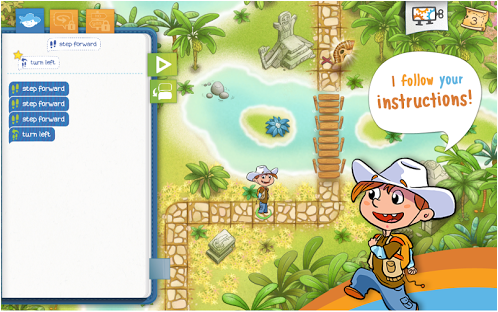 Image source: https://www.clevertouch.com/cleverstore/run-marco
Product type
Educational videogame
Name of the videogame/app
Run Marco!
Name of the producer
Allcancode Inc.
Year
2014
How to find it
For free
Main technical requirements
Ios
Other Web browser
Native Virtual Reality Support
No
Single/Multiplayer
Single
Type
Adventure
Target Audience
6-11 years
Augmented Reality
No
PEGI Clasification
N/A
Use in Educational contexts
Degree of required tutoring
Autonomous use by students
Subjects involved
ICT
Educational Potential
Students learn the principles of coding through an adventure game.
They use visual instructions to guide one of the two characters, Marco or Sophia, towards specific destinations in the jungle through various game levels. The game teaches the basic of instructions and sequence of commands, different types of iteration and conditional logic. Instructions are in the form of the standard visual programming language "Blocky" which is designed for children in the age 6-12 y.o.
The user interface is aesthetic, the design is kid-focused and appealing to children. The character storyline will interest young students. Complicated skills and thinking are made practicable via a drag-and-drop interface.
Easy to use also for teachers who are not very familiar with computers.
The game is translated in 27 languages, among which English, Greek, German, Italian, Spanish, Lithuanian.
Learning Object / Suggested activities with students
Teachers can use it during ICT lessons or computer lab activities to introduce students to coding and pair it with specific lesson plans to supplement learning.
If there are not computers or iPads for all, students can play in pairs.
Skills and competences
Skills and competences acquired
Students learn how to think as software developers and learn logical argumentation applying critical thinking to find solution to specific problems.
As a suggested method to assess the skills, teachers could provide students with relevant quizzes on paper after students have completed a number of game levels and ask them to solve them.
Another option is to ask students to take screenshots during the game and write assessments on key moments of the game.
Soft skills
Critical thinking, Problem solving
---
1 Comments