Partners' Institution
FH JOANNEUM
Author
Erika Pernold
APPS/VIDEOGAMES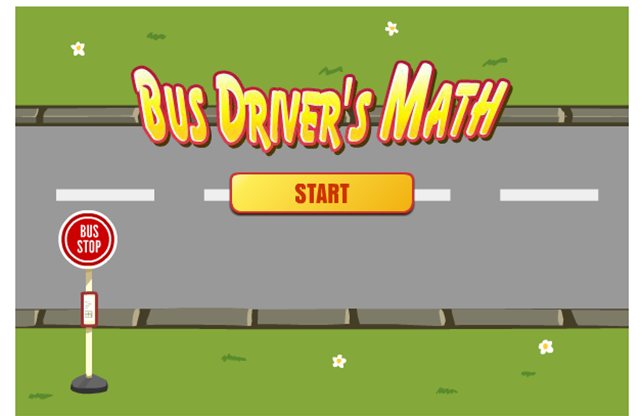 Product type
Educational videogame
Name of the videogame/app
Bus Driver's Math
Name of the producer
Provided from Learninggamesforkids.com
Year
0
How to find it
For free
Main technical requirements
Windows
Native Virtual Reality Support
No
Single/Multiplayer
Single
Type
Educational
Target Audience
6-11 years
Augmented Reality

PEGI Clasification
not commented
Use in Educational contexts
Degree of required tutoring
Autonomous use after teacher introduction/explanation
Subjects involved
Math
Special needs
Physical disability
Educational Potential
Goal: Calculate whether the money paid by the passenger is enough.

The player has the role of a bus driver. He/she can see a label indicating the fare rates for children, adults and elderly people. In each level different people or groups of people are paying for the bus. The player has to decide if the payed amount is enough or not. In each level there are many oppertunites to decide and each level is getting more difficult. In the first level there are e.g. only single persons who pay but up to the second level there are also groups of people where the player has to calculate the necessary fare and has to decide if the paid price is enough or not. The player has three lives – after having made three wrong decisions the game is over. There is a specific span of time for each decision so it is not so easy for younger students.

Children practice mathematic (addition, subtraction) in a playful way and learn through repetition. The game could be used within school lessons or for playing at home after some initial instruction. There are no misleading information or violence in this game

Learning Object / Suggested activities with students
Students could divide in groups with two people. Each group could be playing the game for a given period of time from the teacher. After this time the players could compare each other depending on which level they reached.

Or the two players try to play on their own (one after the other) comparing who has come further.

Skills and competences
Skills and competences acquired
The players practice subtraction and addition in a repetitive way.

It is a suitable tool for practicing the basics of mathematic and should not be assessed with marks.

Soft skills
Problem solving
Other
Logic
Translation
---
3 Comments