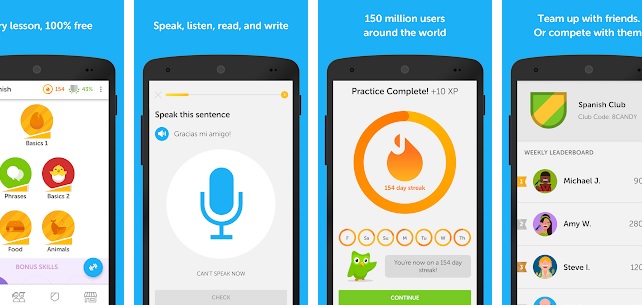 Image source: https://play.google.com/store/apps/details?id=com.duolingo&hl=en
Product type
Educational App
Name of the videogame/app
Duolingo
Name of the producer
Duolingo
Year
2018
How to find it
For free
Main technical requirements
Windows, Ios, Android
Native Virtual Reality Support
No
Single/Multiplayer
Single
Type
Educational
Target Audience
6-11 years, 12-17 years, 18+ years
Augmented Reality

PEGI Clasification
PEGI3
Degree of required tutoring
Autonomous use by students
Subjects involved
Languages
Educational Potential
"Practice speaking, reading, listening and writing. Play a game, answer questions and complete lessons to improve vocabulary and grammar. Start with basic verbs, phrases, and sentences, and learn new words daily.
"This free app and website is among the most effective language-learning methods I've tried… lessons come in the form of brief challenges — speaking, translating, answering multiple-choice questions — that keep me coming back for more." —The New York Times

Most popular language courses in Duolingo are:
• English for Spanish speakers (60M learners)
• Spanish for English speakers (50M learners)
• French for English speakers (30M learners)
Fastest growing language courses in Duolingo are:
• English for French speakers (8M learners)
• German for French speakers (100K learners)

Duolingo for Androids to learn English, Spanish, French, German, Portuguese, Italian, Dutch, Irish, Danish, Swedish, Russian, Ukrainian, Esperanto, Polish or Turkish.

Duolingo for iOS: English, Arabic, Czech, Dutch, French, German, Greek, Hindi, Hungarian, Indonesian, Italian, Japanese, Korean, Polish, Portuguese, Romanian, Russian, Simplified Chinese, Spanish, Thai, Traditional Chinese, Turkish, Ukrainian, Vietnamese.
Learning Object / Suggested activities with students
Pupils divided in groups-teams, can meet in Duolingo Apps with their smartphones for interactive team lesson. Pupils connect for Duolingo groups and participate for highest points of team. Also this game can be as teacher's recommended Apps for developing foreign language skills.
Skills and competences acquired
The game is perfect for large differ range of age. As it starts from easy and simple words and becomes more and more difficult, every time player connects to Duolingo, he/she will start day training where the last time ended. Player will get reminders daily about upcoming lesson, which encourages to finish the started lessons course, developing resilience.
Teamwork skills can be developed through connecting to the groups-teams, where player is as part of the team and plays to achieve team goal. Also leadership where is possibility to compete with friends or random people.
Self-confidence can be created through new knowledge of particular language.
Soft skills
Self-confidence, Resilience, Team working, Leadership