Partners' Institution
Hellenic Open University
Author
Vicky Maratou
APPS/VIDEOGAMES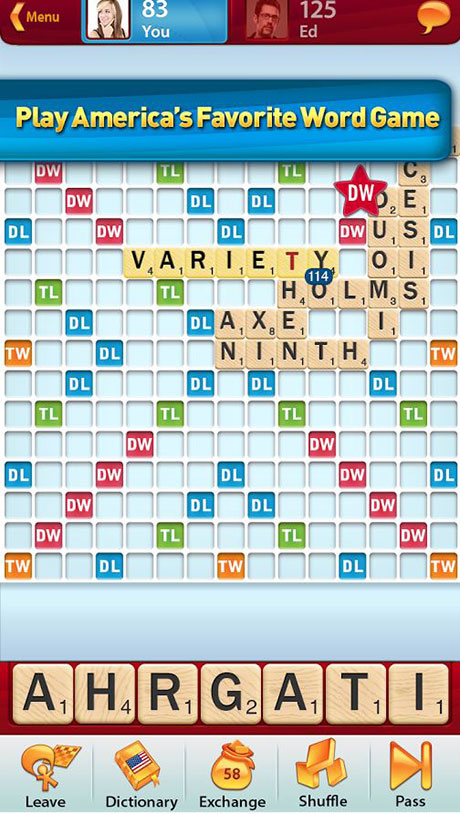 Image source: http://www.learn-language.org.uk/scrabble.html
Product type
Leisure videogame with educational potential
Name of the videogame/app
SCRABBLE
Name of the producer
Electronic Arts (mobile version) & Ubisoft (console version)
Year
2010
How to find it
Freemium
Main technical requirements
Ios, Android, Xbox
Native Virtual Reality Support
No
Single/Multiplayer
Single, Multiplayer
Type
Strategy, Puzzle
Target Audience
6-11 years, 12-17 years, 18+ years
Augmented Reality
No
PEGI Clasification
3
Use in Educational contexts
Degree of required tutoring
Autonomous use by students
Subjects involved
Languages
Special needs
Learning difficulties
Educational Potential
The SCRABBLE app is freemium whereas the Xbox version is purchasable. The game mimics the classic board game but also offers the ability to play whenever and wherever one likes. Students can have fun and learn vocabulary words and spelling as they strategically place their tiles to form words with the highest points. They will also need to use math to maximize their scores. Options include playing with another player on the same device, playing solo against the computer, or joining other players over the Internet in a closed or open group.
Gameplay is familiar to anyone who has played the board game.
SCRABBLE is offered in English, French, Italian, German, Spanish, Portuguese.
Learning Object / Suggested activities with students
Teachers can pair students, or allow them work individually against the computer.
Students can use their knowledge of spelling rules to help them at first. Then the game double checks them and lets them know when they are incorrect.
Teachers can encourage students to use vocabulary taught in the lessons and get extra points in class for doing so. Moreover, teachers can ask students to play only with words related to specific topics, e.g. feeling words where every word played must be related to feelings. This can really help expand students' vocabulary in specific topics.
When playing against the computer teachers can manipulate the levels and let students play at beginner level until they get comfortable. After that, teachers can start introducing the strategy of using the points and bonus spaces, so that students start using strategies and math too.
Team work is enhanced when students form groups and combat each other.
Skills and competences
Skills and competences acquired
Critical, logic and observation skills
Soft skills
Critical thinking
---
2 Comments