Partners' Institution
Kaunas University of Technology
Author
Neringa Kelpšaitė
APPS/VIDEOGAMES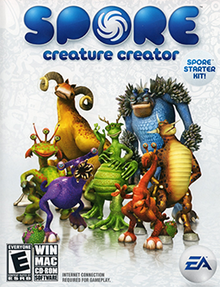 Image source: https://en.wikipedia.org/wiki/Spore_Creature_Creator
Product type
Leisure videogame with educational potential
Name of the videogame/app
Spore Creature Creator
Name of the producer
Maxis
Year
2008
How to find it
To be Purchased
Main technical requirements
Windows, Ios
Native Virtual Reality Support
No
Single/Multiplayer
Single
Type
Adventure
Target Audience
6-11 years, 12-17 years
Augmented Reality
No
PEGI Clasification
PEGI3
Use in Educational contexts
Degree of required tutoring
Autonomous use by students
Subjects involved
History, Natural Sciences, Technology, Literature, Arts and Music
Educational Potential
Spore Creature Creator is dedicated to reveal all creativity of the players to create their own creatures with a standalone version. From smallest parts and details, choosing shapes and colors of the creature's body players create their own unique creatures, bring them to life with entertaining animations, and share them online with friends around the world. Creatures made in the Spore Creature Creator can also be imported into the full Spore game, allowing players to populate their own galaxies. (Based on information from
https://kotaku.com/5017230/spore-creature-creator-available-today
).
Learning Object / Suggested activities with students
As the game gives all possibilities for the player to make any shape creature it can be moved to school subjects as history, arts, literature due to concentrate pupils attention to descriptions, adjectives, details of the text. Pupils can get the task to create dinosaurs, Egypt gods, etc.

There can be announced a contest to create any creature according description from some fairy-tales, myths or create their own creature where would be some kind thematic criteria involved (for example: your best flying friend, character from the book that I read on summer holidays, etc.).
Skills and competences
Skills and competences acquired
Pupils using informatics technologies (IT) open their creativity to achieve goals of the task. If that is to create their own creature pupils will be encouraged to self-confidence to explore what they imagine, feel free to create and experiment with details. If that is more concrete task where is given description, pupils concentrate to the description, details of the text and try themselves on creating using IT.
Soft skills
Critical thinking, Creativity, Self-confidence
---
0 Comments