Partners' Institution
Kaunas University of Technology
Author
Gintare Dzindzeletaite
APPS/VIDEOGAMES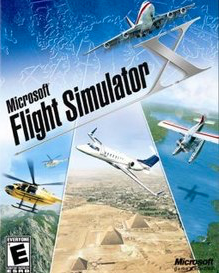 Product type
Educational videogame
Name of the videogame/app
Flight Simulator X
Name of the producer
Microsoft video games
Year
2006
How to find it
To be Purchased
Main technical requirements
Windows
Native Virtual Reality Support
No
Single/Multiplayer
Multiplayer
Type
Role Playing, Simulation, Strategy
Target Audience
12-17 years, 18+ years
Augmented Reality
No
PEGI Clasification
3
Use in Educational contexts
Degree of required tutoring
Autonomous use by students
Subjects involved
Geography, Physics, Technology
Educational Potential
Flight Simulator X is an educational Microsoft game introduced in 2006. The player acts as a pilot that controls the plane. The game includes 18 different plane models, 28 detailed different cities, and over 24,000 airports. The player can fly anything from a small glider or a light experimental aircraft to jumbo jets. The game features an immersive air traffic control system and dynamic real-world condition weather. The geography matches the part of the world that the player is flying in.
Flight Simulator X is a great educational game that helps to develop geography skills as the player can travel between the biggest airports in the biggest cities in the world. As well as physics and technology, by learning how to control the takeoff and landing of the plane, also, how to control the plane whilst in the air. Besides technology, physics and geography also it teaches teamwork and collaboration. As it is a multi-player game it allows gamers to go to a mission and choose their responsibilities that varies from pilot to the air-control officer.
Possible negatives of this video game:
- Video game addiction
Learning Object / Suggested activities with students
The game could be played in either physics or geography class. In geography class scenario the teacher should split students into groups were pupils would choose their task - to be a pilot, air-control officer etc. as well as they should be given a mission to accomplish. Whilst working on the mission they should also get the names of the airports to fly to, however, they should not be given the name of the town where the airport is so they could work it out themselves. After the mission student would draw the map of countries they have visited and mark the town they have flown the aircraft.
In the physics class scenario student should get similar tasks however the result of the task could be a presentation/description of the physic laws applied to achieve the result.
Skills and competences
Skills and competences acquired
Through the use of the videogame/app according to learning outcomes few soft skills have acquired:
- Strategic thinking: players plan their tactics and moves.
- Teamwork: working in teams in different roles (pilot, first officer etc.)
Soft skills
Critical thinking, Team working
---
1 Comments