Partners' Institution
FH JOANNEUM
Author
Jutta Pauschenwein
APPS/VIDEOGAMES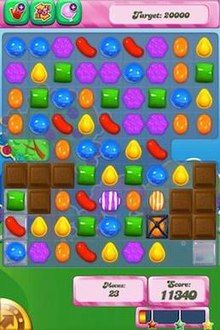 Image source: https//en.wikipedia.org/wiki/Candy_Crush_Saga
Product type
Leisure App with educational potential
Name of the videogame/app
Candy Crush Saga
Name of the producer
King Digital Entertainment
Year
2017
How to find it
For free
Main technical requirements
Ios, Android
Native Virtual Reality Support

Single/Multiplayer
Single
Type
Puzzle
Target Audience
18+ years
Augmented Reality
No
PEGI Clasification
PEGI 3
Use in Educational contexts
Degree of required tutoring
Autonomous use by students
Subjects involved
No related to school subject
Special needs
Hearing impairment
Educational Potential
Candy Crush Saga is a free-to-play match-three puzzle video game . The players swap coloured pieces of candy on a game board to make matches. From episode to episode the game is more challenging as new types of candies, liquorice, blockers, bombs etc. are added. At the moment there are mor than 3000 levels. Candy Crush Saga uses a freemium model: the game can be played without spending money, but it is possible to buy special actions to help clear more difficult boards. Candy Crush can be played outside of facebook. It is possible to play Candy Crush anonymously.

Candy crush has a high educational potential with respect to reflecting how we play. To discuss this educational potential we use the approach of Gee, J.P. Good videogames and learning. (1) In Candy Crush the players make a commitment to play, they come back and play again. (2) They can take risks, failure is a good thing, players can start again. (3) The problems are Well-Order Problems: there are different levels, players form hypotheses that work well for later when they play in more difficult levels. (4) Challenge and Consoliation: Learners develop skills to solve a level, then the game throws a new class of problem at them. (5) Candy Crush is pleasantly frustrating. (6) Performance before Competence: Players can perform before they are competent, supported by the design of the game. They are supported by the "smart tools".

There is a risk to get addicted to Candy Crush. Winning a level is experienced at mini reward in our brain and makes us happy. Therefore, we recommend the game and its potential of reflection of our learning strategies for adult students.

In playing Candy Crush we train our digital competences with respect to our visual perception - as the boards are changing quickly we learn to perceive the order of the candies in the boeard quickly. We get practice in identifying future possibilities.
Learning Object / Suggested activities with students
(1) Students are invited to play Candy Crush for a week. In a workshop of 1 hour groups of 5 students are invited to discuss how they play, what they understand from the game design - types of candies early strategies. The results are documented in a flip.

(2) Students are invited to play for two weeks (they need to get to higher levels to be challenged). In the second workshop of 1 hour groups of 5 students discuss their strategies of playing Candy Crush. Are they playing alone or looking for support from others? Are they playing quickly without thinking about strategy? Are they looking for information outside of Candy Crush about for example the features of a special Candy? The students compare their strategies and learn from each other.

In this workshop also the potential of addiction is discussed and how the students deal with it.
(3) The students play for another week and hand in a short paper about their strategy to play Candy Crush, how it changed over time, what they learned in the discussions with their colleagues and the transfer into learning processes.
Skills and competences
Skills and competences acquired
- Visual skills: better perception of online screens, better perception of an online space
- Learning strategies: reflection and better understanding of own learning strategies and getting new ideas from others, reflection
- Suggested method to be used to assess what was learned: by a short reflection paper as mentioned above
Soft skills
Critical thinking, Problem solving, Self-confidence, Resilience
---
1 Comments