Partners' Institution
Hellenic Open University
Author
Vicky Maratou
APPS/VIDEOGAMES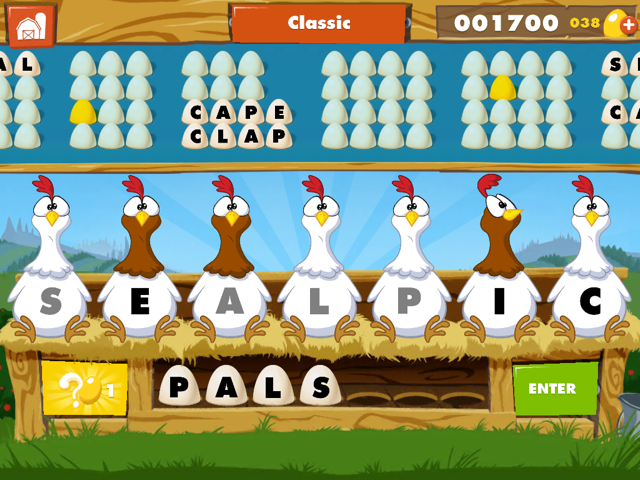 Image source: https://www.facebook.com/Chicktionary/
Product type
Educational App
Name of the videogame/app
Chicktionary
Name of the producer
Ludomade
Year
2014
How to find it
Freemium
Main technical requirements
Android
Native Virtual Reality Support
No
Single/Multiplayer
Single
Type
Puzzle
Target Audience
6-11 years, 12-17 years
Augmented Reality
No
PEGI Clasification
3
Use in Educational contexts
Degree of required tutoring
Autonomous use by students
Subjects involved
Languages
Other
English
Educational Potential
Chicktionary is a vocabulary app/game that allows players to build words in English. To finish a game, players need to create all of the words from a 7 letter set. Words range from 3 to 10 characters. There are 7 chickens on the screen and by tapping each chicken's belly, the players begin to build a word and hear a fun clucking sound.
There are three options for play. During Quick play, players have 2 minutes to find as many words as they can. During Classic, players can take their time finding all the words in the puzzle and during Journey players follow a route by unlocking a new game after successfully completing the previous one.
The game does not offer the option to customise the letters nor can the teacher limit the amount of letters in a word. However it provides hints.
Chicktionary can be a fun way for students to learn new vocabulary, recall words that already know whereas it could be an entertaining and engaging alternative to routine spelling exercises.
For non-native English speaking students, this game is appropriate for ages higher than 10 years old.
Learning Object / Suggested activities with students
Chicktionary could be a great practice game and an effective way to keep students engaged in language learning or spelling activities, especially for non-native English speakers, during an English class. Depending on the available devices, students could play Chicktionary individually, working with partners or in small groups. It could be also used after completing classwork on the smartboard as a group activity.
Teachers are advised to try to maintain a list of high Chicktionary scores earned throughout the year as a competition-based motivator for students. Teachers can also participate in order to help/provide hints when students are stuck. Not all words are known, but this can be used to encourage students to look them up in the dictionary.
When using it as a class activity, students can be asked to review the list of possible words they missed and add unfamiliar words to their word notebook. Then, they can use a dictionary (either online or in hard copy) to discover the meaning and use of these words and write sentences using these words.
Skills and competences
Skills and competences acquired
Chicktionary can enrich students' vocabulary in English as well as their word spelling skills.
Soft skills
Critical thinking
---
0 Comments